#SoEveryoneCanGame
Professional Development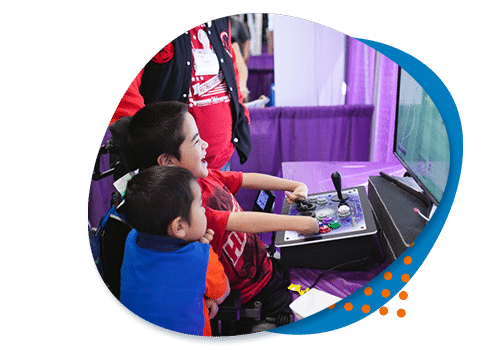 Our Peer Counselors and Engineers can do amazing things to get a player with physical disabilities back in the game. There is nothing that we can do within those teams to support, for example, a Deaf player. A Deaf player will need things that are software-based, and that is why AbleGamers has the Professional Development Pillar.
We work to educate the developers that make the games. We teach them about the needs of all players with disabilities, from the needs of a Deaf player to the needs of a player with neurodiversity options.
Accessible Player Experience Design Patterns 
Years of work lead to the creation of the Accessible Player Experience Design Patterns, or as we call them, APX. We worked with over 400 players with disabilities in our User Research Pillar and started to see some data that led us to this discovery. Launched in Oct of 2018, APX is a set of 22 design patterns that help developers craft experiences that lead to players with disabilities being able to enjoy. These patterns are open source and are being used by countless studios to help make their games more accessible to all players. To see and use those patterns, click here.
Certified APX Practitioner
AbleGamers has been the driving force to move the industry, as as they have evolved, we found that so many developers wanted to go beyond the APX Design patterns, and really dive into creating a more inviting world for players with disabilities. AbleGamers spent 2 years developing our 2-day training program that gives game designers the deep knowledge to really move the needle on accessibility in their studios.
In the first 18 months of the program AbleGamers has certified over 160 developers from triple-A studios like Blizzard and Square Enix to Indie developers wanting to make sure their hard work can be enjoyed by all. To learn more click here.